European Commission enters into a partnership with the EOSC Association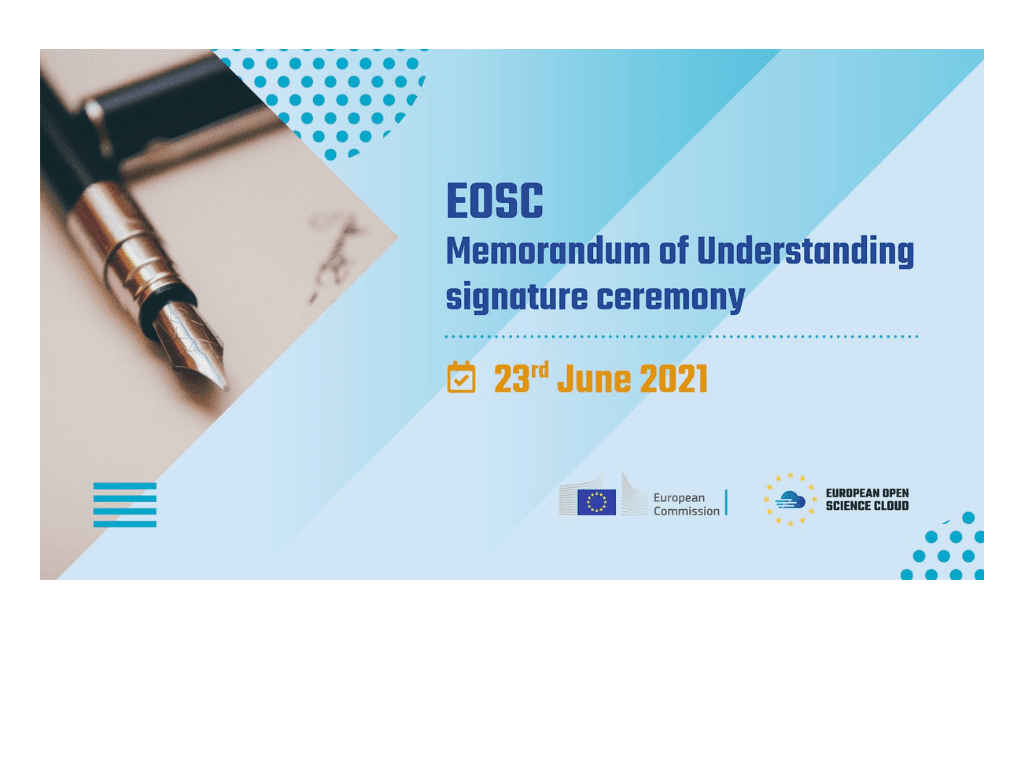 During the European Commission's annual flagship Research and Innovation event, the European Research and Innovation Days,  the implementation of the European Open Science Cloud (EOSC) reached a major new milestone.
On June 23rd 2021, the European Commission (EC) and the newly formed EOSC Association signed a Memorandum of Understanding for a co-programmed partnership until 2030.The Partnership has been signed by Mariya Gabriel, Commissioner of Innovation, Research, Culture, Education & Youth and Thierry Breton, Commissioner of Internal Market, on behalf of the European Commission, and on behalf of EOSC by Karel Luyben, President of the EOSC Association.
The European Open Science Cloud (EOSC) initiative aims to deliver a federated infrastructure for all researchers, innovators, companies and citizens with seamless access to an open-by-default, efficient and cross-disciplinary environment for storing, accessing, reusing data, tools, publications and other scientific outputs for research, innovation and educational purposes. With this partnership, the EC supports an Open Science policy that builds trust in a digitally enabled and more open and robust research process not only for scientists, but also for society at large.
EGI Director Tiziana Ferrari welcomes the commitment of the European Commission to EOSC: The European Open Science Cloud will support researchers with easier access to more research data and tools. As long standing partners, the EGI Federation welcomes the EC commitment to the EOSC vision and mission with the EC-EOSC partnership established today'
Watch a recording of the signing ceremony (with speech from Prof. Karel Luyben, President of the EOSC Association):
Link to the original press release.
As a key player in important EOSC projects - e.g., EOSC-hub (finished), EGI-ACE and EOSC Future) - EGI supports the implementation of European Open Science Cloud (EOSC) by:
Delivering the computing platform that serves as a federated secure and trustworthy hosting environment for European core research data exploitation across organisations, projects and national boundaries.
Providing key components of the EOSC Core such as the EOSC Marketplace and the EOSC Portal AAI infrastructure, service availability monitoring, usage accounting, the helpdesk, and policies and processes for the provisioning of the EOSC federated 'web of data and services'
Coordinating the EOSC service portfolio and the service provider onboarding process
Coordinating dedicated user support actions such as the EOSC Digital Innovation Hub and the EOSC Early Adopter Programme