New participants joining the EGI Federation in 2021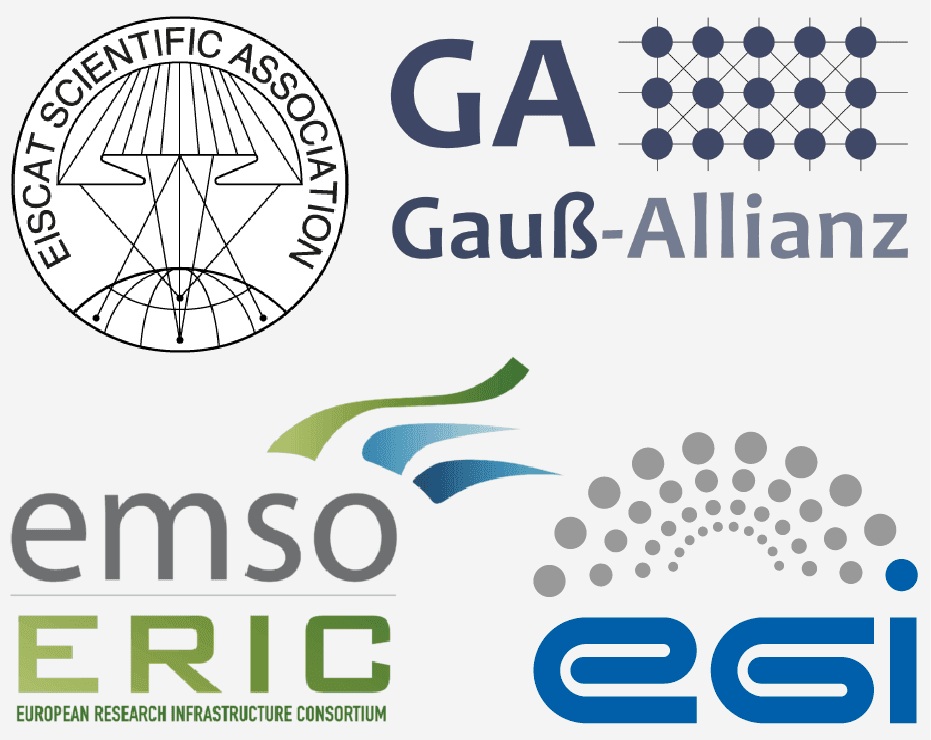 Exciting news! We are happy to announce that from the start of next year EISCAT and EMSO - two major research infrastructures on the ESFRI roadmap - will be joining the EGI Federation. Both international research infrastructures will support the EGI Federation's vision to provide all researchers with seamless access to services, resources and expertise to collaborate and conduct world-class research and innovation. Last but not least, we are proud to announce that the German NGI, represented by the Gauß-Allianz will become a full member.
EMSO ERIC
What is EMSO? The European Multidisciplinary Seafloor and water column Observatory is the consortium of European research infrastructures that aims to explore the the water column, seafloor and sub-seafloor of seas, to gain a better understanding of phenomena happening within and below them, and to explain the critical role that these phenomena play in the broader Earth systems. EMSO provides high-quality data and knowledge to study environmental processes that involve complex interactions among the geosphere, biosphere, and hydrosphere.
EMSO consists of a system of regional facilities placed at key sites around Europe, from North East to the Atlantic, through the Mediterranean, to the Black Sea. Observatories are platforms equipped with multiple sensors, placed along the water column and on the seafloor. They constantly measure different biogeochemical and physical parameters, that address natural hazards, climate change and marine ecosystems.
"We are very proud of this milestone" says Tiziana Ferrari - EGI.eu Director. "By joining the EGI Federation, EMSO will receive expert support to portal applications and platforms to the EGI Federated Cloud, and with EMSO requirements the EGI Federation will grow its research cloud services thanks to co-design activities dedicated to the technical needs of marine science".
"Working with EGI is an excellent opportunity for EMSO ERIC to provide a quality leap to our community of users and perfectly complement our current capabilities. EGI's resources will sustain marine environmental services, such as climate change, natural hazards, and biodiversity, with enormous impact and added value that affect all of our distributed infrastructures. We look forward to working with EGI as we move into full operation." - Juanjo Dañobeitia, Director General EMSO ERIC
EISCAT
The European Incoherent Scatter Scientific Association (EISCAT) exists to provide scientists with access to incoherent scatter radar facilities of the highest technical standard. The association operates four radar antenna sites to enable research on the ionosphere and the upper atmosphere. EISCAT 3D is the new research radar of the collaboration and is a ESFRI Landmark since 2018, consisting of 10,000 antenna elements that are expected to start their observations in 2023 and remain in operation for at least 30 years. EISCAT 3D will require a large amount of computing and storage resources and the ability to federate data and run applications across multiple sites in Europe, China, Japan and South Korea.
By becoming a member, EISCAT will receive dedicated support and development effort to customize the DIRAC interware to its specific needs, and integrate additional services like EGI Check-in and EGI notebooks.
"The EISCAT membership follows a long term collaboration that started with the EGI-Engage project and continued thanks to the support of the EC Horizon Europe programme with EOSC-hub. The success of the EGI-EISCAT collaboration demonstrates the importance of co-design and technical support to enable scientific collaborations with complex digital needs " says Tiziana Ferrari.
"At EISCAT we look forward to working within the EGI Federation to provide our user community with more seamless access to data and processing resources. Secure user and operator authentication in a multinational environment will be especially important to the EISCAT_3D science when that system comes fully online." - Craig Heinselman, Director EISCAT
Within the EGI Council EMSO ERIC and EISCAT will join other international scientific collaborations, namely CERN (High Energy Physics), IS-ENES (Climate Modelling) and SeaDataNet AISBL (Marine Science).